Clever design and smart finishes mean that even the smallest of bathrooms can be stylish as well as practical. Whether you choose a sleek streamlined look or traditional detailing, there are plenty of ways to have the wow factor in your small bathroom.
Big bathrooms are a luxury many of us can only dream about – a free-standing bath in the middle of the room is on everyone's wish list. However, we think compact bathrooms can be just as gorgeous.  A small space doesn't have to look cluttered or cramped when you incorporate a few clever tricks of the trade – your room can oose style and sophistication.  A well-designed layout, a couple of space-savings tips mixed in with some on-trend tiles and bathroom accessories will turn the most modest of bathrooms into an enviable space.
If you are currently wishing you could remodel your small bathroom but have no idea how best to redesign such a small space, here are some tips that will help you get started.
Making the most of a small bathroom space
When it comes to designing the layout of a small bathroom, careful consideration of the limited space is essential to ensure you have a bathroom that is functional, practical and stylish.  Before any bathroom can be fitted, it will require accurate and precise measurements. You must consider the size of the suite that you want and the space available. The idea is to use every inch of space in the best possible way. Here are some top tips to help you get the most out of your small space.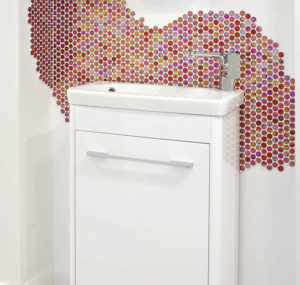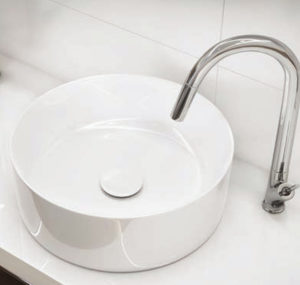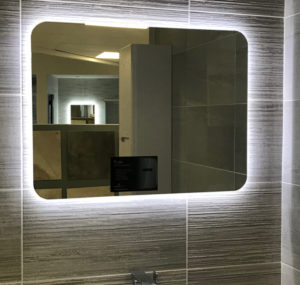 Vanity Units – round/corner/trough sinks
Besides just visually helping the bathroom appear bigger, mounting a vanity unit above the floor frees up a little space for small items underneath. Select a vanity unit that is small and has one mixer tap. Even a pedestal style with one shelf can hold towels or a basket for toiletries. A range of mini bathroom vanities are on the market for those small under the stairs guest bathrooms.
Corner sink
Depending on the size and shape of the bathroom, placing a corner sink across from the toilet works better than a sink across from the shower. The opening and closing of the shower creates an awkward walk-around situation.
Trough sink
The narrow, modern trough sink is particular beneficial space-saving idea in a small bathroom. Trough sinks have a low profile. When wall-mounted, they free up space for storage. Wall-mounted taps allow for the use of a narrower sink or vanity unit.
Round vanity unit
Tight spaces can make sharp corners hazardous.  If the corners of a vanity will get in the way, opt for a rounded style
Shower units
The best way to save space is a stand-alone shower. There are a range of shower tray sizes & shapes to suit the smallest space.  Extend the eyeline with clear shower enclosures. Showers doors that fold inwards allow more flexibility with the design and layout of the small bathroom.
Baths
Baths come in all shapes and sizes these days. If you desire a place to relax and unwind, one of our smaller baths, combined with clever design and layout is the solution. Bath/shower combs are the ultimate space-saving option if you want both.
Toilet
The use of a wall hung toilet not only looks great but also clever efficient use of space
Tiles
Install floor tile on the diagonal. Use the same light colour and shaped tile through the small bathroom. Continue the tile all the way to the ceiling. This will create the illusion of a bigger space. Emphasise textures over colour – the same colour tile with one as a textured tile. A big sized tile and pattern can trick the eye into seeing expanded space. The size might stay the same but the bathroom will feel bigger.
Lighting
Give illusions of high ceilings with the right lighting
Mirrors
Mirrors reflect light – use them wisely. In the smallest of spaces, having a large mirror across a wall instead of just the vanity unit will give the illusion of a bigger space. Mirrors with built-in lights help to brighten and open up a smaller space.
Get creative with storage ideas
There are many options when it comes to simple space-saving storage ideas. A combined vanity, basin and storage unit that is small and compact is one of the top tricks for small bathrooms where space is an issue. Recessed shelving in the shower or around the bath is very practical and very on-trend. Add in some light and you have your wow factor in a very small space.
Above toilet storage creates just enough space for a few needed items. Toilet placement is not affected, and the look is minimalist and clean.
In summary
:
Keep it simple, use one or two light colours through the small space.
Select fixtures that are in proportion to the space.
Focusing on quality and simplicity will make the space feel elegant but not overcrowded.